One day closer to Saturday night's game at Vanderbilt and there has been no official resolution on the injury status of Ole Miss running back Scottie Phillips.
Phillips, the SEC's third-leading rusher, suffered an ankle sprain last week against Texas A&M. He has not practiced this week and spent Wednesday's practice watching from the sidelines.
"We're just going to rest him as much as we can, and it will be a game-time decision," confirmed Ole Miss head coach Matt Luke following the Rebels' Wednesday evening practice.
"As far as him carrying the ball, he's going to know what to do. He'll be out there for team periods for the third-down stuff, but we're going to try to rest him as much as we can. It will be a game-time decision."
After braving the outdoors and near-freezing temperatures on Tuesday, the Rebels practiced inside the confines of the Manning Center on Wednesday with temps in the 20's and snow flurries falling in Oxford.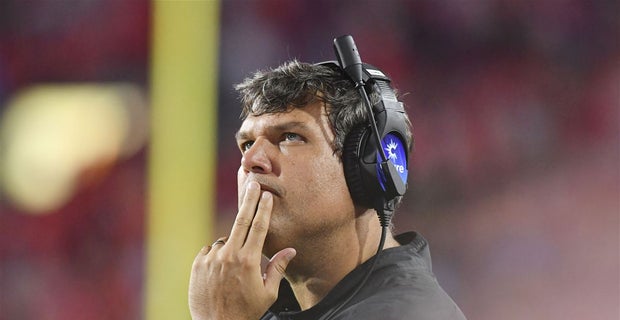 Vanderbilt (4-6, 1-5 SEC) is fighting to remain within grasp of bowl eligibility on Saturday. The Rebels (5-5, 1-5 SEC) know their season ends on Thanksgiving night. It would seem like an easier play for Vanderbilt head coach Derek Mason's team to have an upper hand in that department.
But not so fast. Luke talked about Ole Miss' motivation and what the Rebels are fighting for.
"We have eight days left together. One week from tomorrow our season will be over. Id' just like for these guys to go out the right way. I'm one hundred percent sure that I owe it to those guys…to the seniors that came back when they didn't have to…they would have been eligible to play other places…they came back here for a reason. They came back here for each other. They came back here for this university and maybe for the name on the front of the jersey not the name on the back. I owe it to them to give everything I've got, and I think the people in this room know that they owe it to each other for all the stuff that they've been through to finish this thing the right way and to send these guys out with a win," said Luke.
"Given the circumstances and the stuff that they've battled through, they've showed up and they've gone to work every day. I've told several people it just kind of takes five minutes on Sunday to walk through the training room and to see the knees swole (sic) up, the ankles swole up, the guys with braces on their shoulders, in the cold tubs or in the hot tub…They're battling and they're giving everything that they've got. For me, it's very easy to stay motivated. And we've got a whole staff full of families that live and die with every single game that we play. Regardless of how you look at it, there's plenty of motivation when you give as much as we have to battle and fight through this thing."
Do the Commodores remind Luke of any opponent the Rebels have faced this season?
"They'll mix personnel similar to Texas A&M. They like to run the football and play-action. They have a good screen game," said Luke.
"Defensively, Coach Mason has always done a good job of mixing up his pressures and bringing people from different places. You've got to be prepared for that."
The Vanderbilt offense is not a tempo unit. The Commodores are deliberate when they have the football. Could that help the Ole Miss defense Saturday night, particularly from a communication perspective?
"I don't know if it favors you, but I do think for a defense, if you can dig your cleats in, and you get the call and you see the formations and the tendencies they have by each formation, I think that does help," said Luke.
The Rebels, though, will have to deal with a heavy dose of pre-snap motion from Vanderbilt.
"A lot of people call it being in the zone, but it's just about being focused. About having your eyes right, knowing where your help is, knowing the leverage that you have. There are certain things you have to be looking at. There will be a lot of window dressing to try to take your attention, but as long as you stay focused on your job, you'll be fine. You've just got to be careful with all of the eye candy," related Luke.
Defensive end Markell Winters has taken practice reps this week and Luke said he should "be able to play some" versus Vanderbilt.
True freshman wide receiver Myles Battle played in his fourth game last week versus Texas A&M. It will be an "as needed" decision as to whether he plays in a fifth game, thus losing his redshirt.
"If we needed him in whole game we would use him, but we're going to try and save it, if we can," Luke said.